Connect with a clinic and receive lower prices today
Unlocking Radiant Skin: The Skin Benefits of Topical Retinoids
In the quest for youthful and radiant skin, topical retinoids have emerged as a powerhouse ingredient renowned for their remarkable benefits. In fact, they are possibly the most established and evidence-based solution to healthier skin.
Among the arsenal of skincare products available today, Retin-ACE™ stands out as a cutting-edge formulation, containing a unique granactive retinoid known as Hydroxypinacolone Retinoate.
In this blog, we will delve into the skin benefits of topical retinoids and explore why Retin-ACE™, with its revolutionary ingredients, surpasses traditional first-generation retinoids like retinol and tretinoin.
The Magic of Topical Retinoids
Topical retinoids are derivatives of vitamin A, a vital nutrient that plays a crucial role in skin health. When applied to the skin, retinoids are converted into retinoic acid, which facilitates several transformative effects:
a. Boosts Collagen Production: Retinoids stimulate collagen synthesis; one of the key proteins responsible for skin's firmness and plumpness. Increased collagen levels help reduce the appearance of fine lines and wrinkles, promoting a more youthful complexion.
b. Accelerates Cell Turnover: Retinoids encourage faster cell turnover, shedding dead skin cells and promoting the growth of new, healthy ones. This process helps unclog pores, prevent acne breakouts, and improve skin texture.
c. Evens Skin Tone: By targeting hyperpigmentation and dark spots, retinoids contribute to a more even and radiant skin tone.
Introducing Retin-ACE™ and Hydroxypinacolone Retinoate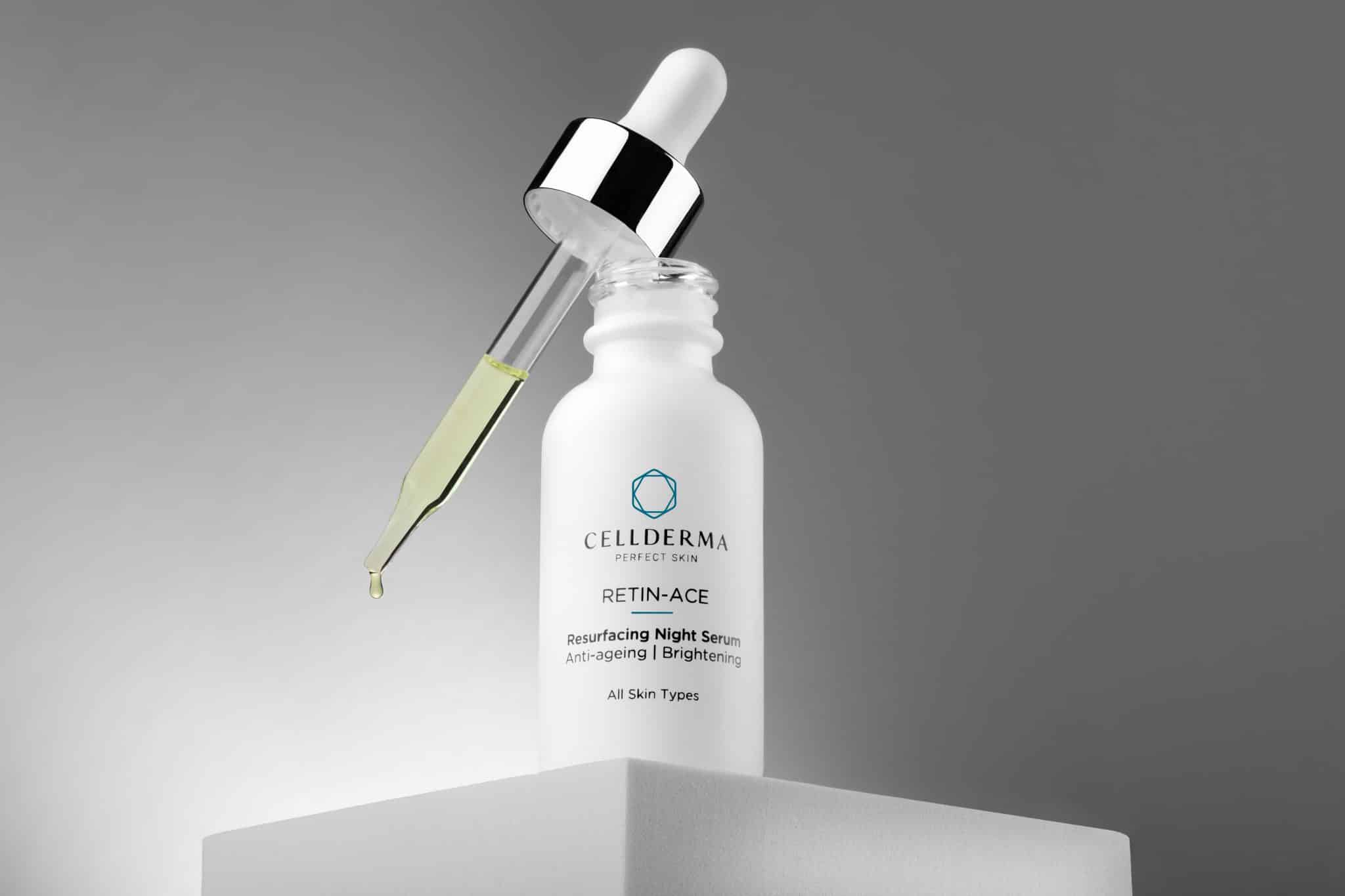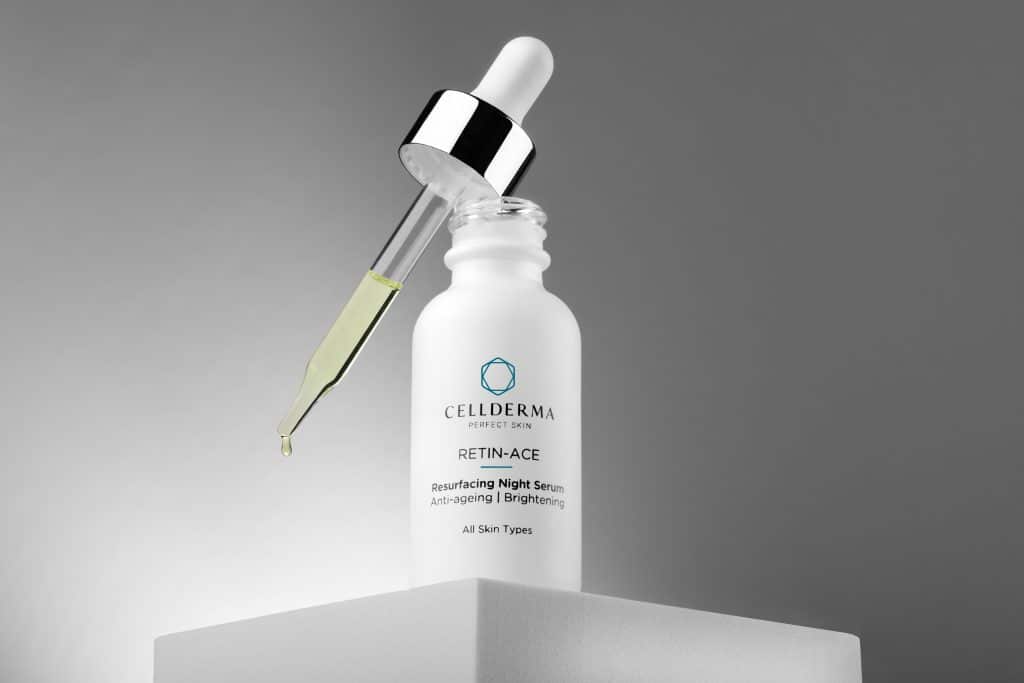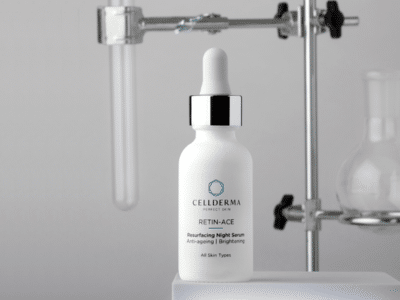 Retin-ACE™ sets a new standard in the realm of topical retinoids with its advanced formulation. At the heart of this product lies hydroxypinacolone retinoate, a next-generation granactive retinoid that offers several key advantages over traditional retinoids like retinol and tretinoin. Aside from incorporating this 4th generation retinoid, CellDerma have ensured that the precise conditions of the formula ensure optimal stability and delivery of the active ingredients. Advantages include:
a. Enhanced Stability: One of the primary challenges with traditional retinoids is their sensitivity to light and air, leading to potential degradation and reduced potency over time. Hydroxypinacolone retinoate, found in Retin-ACE™, boasts superior stability, ensuring optimal efficacy throughout its shelf life.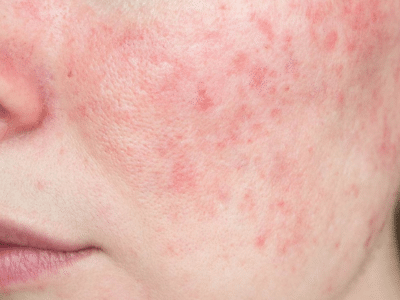 b. Tolerability: Traditional retinoids, particularly tretinoin, are notorious for causing skin irritation, redness, and peeling, especially during the initial adjustment period. The unique structure of hydroxypinacolone retinoate in Retin-ACE™ is gentler on the skin, making it more tolerable for a wider range of users without compromising on effectiveness. One study showed that 99% of Retin-ACE™ users reported no side effects, even when used around the eye area. This study included patients suffering with sensitive skin including severe rosacea and acne.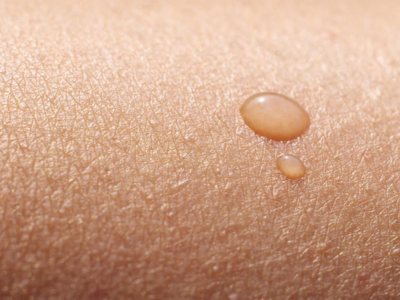 c. Gradual Penetration: Retin-ACE™ harnesses the controlled and gradual penetration of hydroxypinacolone retinoate into the skin. This allows for a slower release of retinoic acid, minimizing the potential for adverse reactions but also delivering a longer duration of action per application.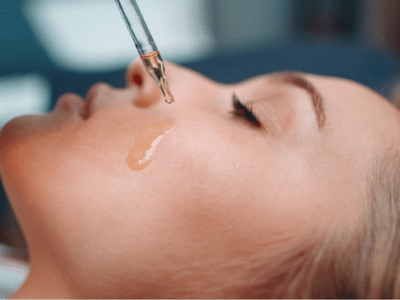 d. Versatility: Unlike some traditional retinoids, which may require a prescription, Retin-ACE™ is available over-the-counter. This accessibility allows a broader audience to enjoy the numerous skin benefits of topical retinoids without the need for a doctor's visit.
Conclusion
In conclusion, topical retinoids have rightfully earned their reputation as a must-have in any skincare regimen, thanks to their transformative effects on the skin. Retin-ACE™, with its unique granactive retinoid Hydroxypinacolone Retinoate, takes the concept of retinoid skincare to new heights. With its enhanced stability, reduced irritation, and controlled penetration, Retin-ACE™ offers unparalleled skin benefits over traditional first-generation retinoids like retinol and tretinoin.
So, if you're looking to unlock the secret to radiant and youthful skin, consider incorporating Retin-ACE™ into your skincare routine and witness the remarkable difference it can make.
Always remember to consult with a dermatologist or skincare professional before starting any new skincare product, especially if you have specific skin concerns or conditions.